West Manggarai Swisscontact – Ausaid Tourism Assistance ( 10 June 2006 - 31 December 2008)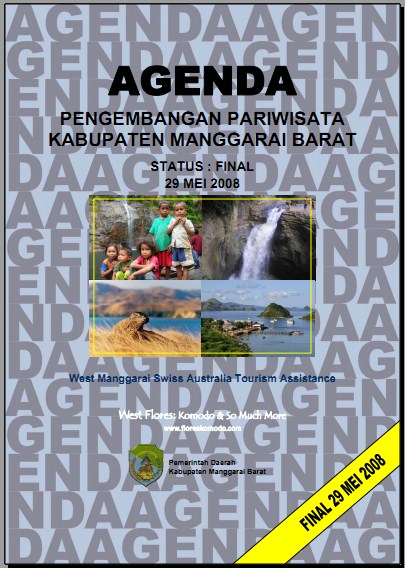 Category : Eco-Tourism Development
Periods : 10 June 2006 - 31 December 2008
Location : West Manggarai, Flores Island, Indonesia
Service Provider : Swisscontact
Project Value :
Funding : AusAID ANTARA
Clients : West Manggarai Government of Nusa Tenggara Timur, Indonesia
Consortium Partners :
Staff Provided : 5 International, 12 National
Description of Project:
Background
Project Origin AusAID has been exploring opportunities for collaboration with Swisscontact through the Australia Nusa Tenggara Assistance for Regional Autonomy (ANTARA) Program with an initiative in NTT. In January 2006, Swisscontact provided AusAID with a project Concept Note outlining the basis for developing a project on Eco-Tourism Promotion in West Flores. After initial discussions, AusAID and Swisscontact agreed to work together through a single source tender based on Swisscontact's strong performance record in LED, SME and Skills development. Rationale, Problem Analysis and Project Description: NTT is one of the poorest provinces in Indonesia. The proportion of people living below the national poverty line is 30% compared to a national average of 18%. The poverty trend is also getting worse since 1999. In the West Manggarai eco-tourism area, the private sector appears to be unable (or unwilling) to raise local service standards towards what is an acceptable international benchmark, including for home-stay, provision of budget accommodation, transport, banking, communications and for eco-tourism activities. The nearby Komodo National Park is still far away from its carrying capacity and offers unique natural attractions. The Project has potential to contribute directly to poverty reduction in West Manggarai, through increasing visitor numbers and opportunities and improving the quality and efficiency of those District agencies and SMEs involved in eco-tourism. Increased visitor numbers has the potential to provide a positive impact on the District, in terms of income, better planning and governance, local employment, increased skill levels, improved local services and a reduction in existing poverty levels. The project will stimulate all stakeholders to provide their own solutions to problems and to identify new opportunities.
Objective: The project objective is to increase income and employment through sustainable pro poor growth. It will do this through increasing visitor numbers and local income, as well as improving the quality and efficiency of services and increased governance within District agencies and SMEs involved in eco-tourism. An increase in the quality of services provided, combined with an increase in the number of eco-tourists staying in the District, will have a positive impact on the demand for labor
Service Provided:
Component 1 aims to contribute to the project objective by creating a more conducive enabling business environment. The application of the Triple A tool, an innovative governance capacity building tool, is expected to result in increased standards in local planning and improved coordination in the management of services and resources. Especially improved transparency and better levels of governance in the District West Manggarai will eventually contribute to a more conducive investment climate.
Component 2 aims to contribute to the project objective by improving the quality of local eco-tourism providers. An increased quality of local facility and skill levels as well as an increase in local eco-tourism planning and conservation capacity are presumed to enable a more sustainable eco-tourism growth, limiting or reducing relative burdens on the environment. The constraints and opportunities of the tourism sub sectors will be identified and facility and service quality improvement activities will be facilitated. This includes the design of skills training interventions and the support of training delivery to existing or new eco-tourism workers.
Component 3 seeks to contribute to the projects objective by improved promotion and marketing capacity of all local stakeholders. A coordinated eco-tourism marketing plan, a promotion web site, a promotion portfolio and local marketing capacity building activities are being facilitated to allow better linkages and to start a positive market change.
Products :
ATLAS Pengembangan Pariwisata Kabupaten Manggarai Barat
AGENDA Pengembangan Pariwisata Kabupaten Manggarai Barat
ATURAN MAIN Pengembangan Pariwisata Kabupaten Manggara Barat