National Capital Integrated Coastal Development (January 2013 - April 2014)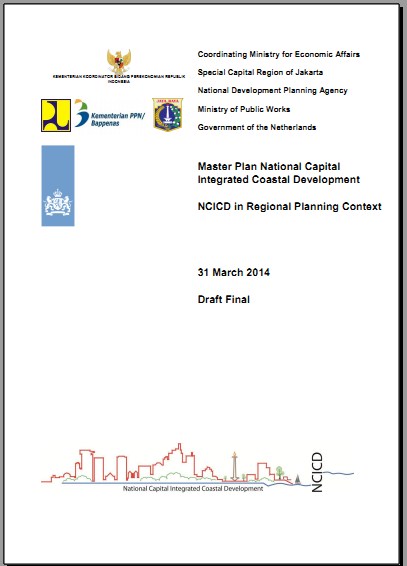 Category : Urban Coastal and River Development
Periode : Januari 2013 – April 2014
Location : DKI Jakarta, Indonesia
Project Value :
Funding : Partners for Water (Dutch aid), Goverment of The Netherlands
Clients : Komenko, PU SDA, Bappenas, DKI Jakarta, Government of Indonesia
Consortium Partners : Witteveen+Bosch as lead consultant, Grontmij, Kuiper, Ecorys, Deltares,Triple-A Team
Staff Provided : 2 International; 2 National
Background & Objective
Since several years Indonesia and the Netherlands have been working together to reduce and prevent floods in the National Capital of Indonesia. The result of this collaboration until now was the Jakarta Coastal Defence Strategy (JCDS) developed in the period 2010-2011. In the period 2013-2014 a Master Plan for National Capital Integrated Coastal Development (NCICD) will be prepared to continue the bilateral cooperation.
The Master Plan philosophy is reflected in two project goals (or primary objectives):
Build a Master Plan for mid-term and long-term to protect and develop the coastal zone of the National Capital until 2050 or 2075 (to be determined in the project).
Provide adequate flood protection with short-term measures for the period until 2025.
The goals (or primary objectives) are supported by four secondary objectives:
Identify preconditions, external targets and scenarios, inside and outside the focus area, which are relevant to achieve the goals of the Master Plan.
Focus on opportunities for integrated development and investment as drivers for the full life cycle each stage.
Define a feasible strategy with adaptive and reliable staging given the many uncertainties.
Set a solid Basis of Design and conceptual design for the stages.
The scope of the Master Plan is to develop a spatial framework for flood defence and flood management in the main water system, integrated with the urban development of the coastal zone of the National Capital. The relations with the underlying (secondary and tertiary) urban water system (polders, urban drains, retention) as well as the upper river system will be considered and recommendations will be made. Design and detailed research activities, however, will focus on the primary flood defence system (existing sea wall, the major river embankments, sea defences in the Bay of Jakarta).
Services Provide:
The final deliverable is a Master Plan consisting of a main report with:
A final strategy based on urban developments, investment opportunities, technical research, cost-benefit analyses, social and environmental assessments.
A solid project rationale backed by clear arguments.
Conceptual urban and technical designs, fully integrated with urban and socio-economic developments, technically and financially feasible.
Recommendations on requirements for the upstream parts of the river and the underlying urban water systems.
An investment and Implementation Plan for deep sea port, land reclamations and toll roads.
A summary of underlying technical reports (see the other deliverables) which are annexes to the main report.

Products :
English Version
NCICD in Regional Planning Context
Materplan NCICD
If you would like to know more, please contact us or send email to aaa@triple-a-team.com