Integrated Water Resources Management Investment Program – PFR-II (PPTA) ( 22 January 2013 – 22 April 2014)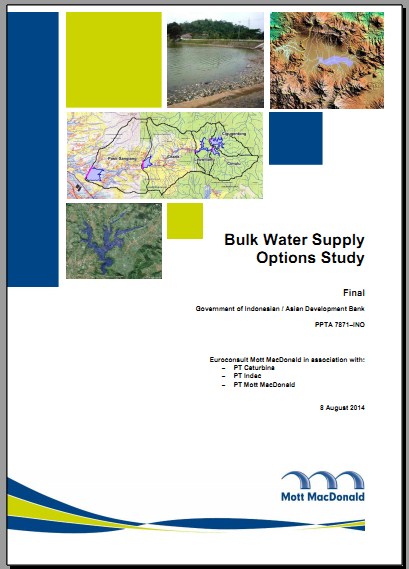 Category : Integrated Water Resources Management and River Basin Development, Planning of Investment and Implementation based on PPTA Periode : 22 January 2013 – 22 April 2014
Location : City and urban agglomeration of Bandung and the adjacent upstream area of the Citarum River Basin
Service Provider : Euroconsult – Mott MacDonald
Project Value :
Funding : ADB Clients : Bappenas, Public Works, Provincial Government of West Java, District Government of Bandung
Consortium Partners : Triple-A team
Staff Provided : 7 expatriate experts and 15 Indonesian experts
Background :
The city of Bandung is located in the upper catchment area of the Citarum River Basin. The Citarum river used to be a pristine river that contributed to the charm and the microclimate of the city, but during last three decades it has turned into an open sewer that is probably one of the most polluted rivers in the world. The present demand for raw water for municipal, industrial and agricultural use of 5.1 m3 per second exceeds the available raw water supply, which currently is only 3.7 m3 per second. As a consequence commercial and industrial enterprises depend on unplanned and uncontrolled abstraction of deep groundwater that causes severe land subsidence of 5-10 cm per year. Due to rapid urbanization and industrialization the demand for water is expected to increase substantially and reach 22 m3 per second by the year 2030. The government aims at increasing the raw water supply by optimizing and expanding existing raw water storage capacity and developing new water storage capacity tapping on new sources, among others the upper catchment area of the Citarum River itself, but also through inter-basin transfer based on 20-30 km long water tunnels. Due to rapid urbanization and deforestation the environmental conditions in the upper Citarum River Basin have been deteriorating causing rapid run-off, severe erosion and landslides upstream, and as a consequence sedimentation and flooding midstream and downstream. Besides, untreated human, industrial and agricultural waste pollute the surface water that is actually needed for water supply, and substantially increasing the cost of water treatment.
Objective :
(i) identify, plan and develop new sources of raw water supply; (ii) control use of groundwater through planning, regulations, law enforcement and providing alternatives; (iii) improve the environmental conditions in the urban and rural areas of the upper catchment area.
Services Provided :
Component 1. The consultant shall develop integrated strategies and an overall raw water supply master plan. Based on the most viable options quick-yielding schemes will be identified and pre-feasibility studies will be undertaken to assess the cost and benefits, and the physical and environmental impacts. Based on the selected options tender documents will be prepared for Detailed Engineering Design.
Component 2 aims to control the use of ground water, first of all to stop land subsidence, but secondly to benefit from ground water as an alternative source of raw water during limited periods of drought in the dry season, when some water storage basin can no longer meet the demand. This requires close collaboration with the private commercial and industrial enterprises that depend on deep groundwater, taking into account the financial, economic and social impacts of restrictive use of groundwater.
Component 3 seeks to improve the environmental conditions in the upper catchment area, including the revitalization of urbanized riverbanks, as well as stabilization of the hill slopes around the city of Bandung. This requires land use planning and control measures, changes in agricultural practices, forestation, building regulations and enforcement.
Products :
– Bulk Water Supply Masterplan 2040 for greater Bandung
– Bulk Water Supply Option Study
-;Greater Bandung Bulk Water Supply
If you would like to know more, please contact us or send email to aaa@triple-a-team.com